SSCA Cruising Station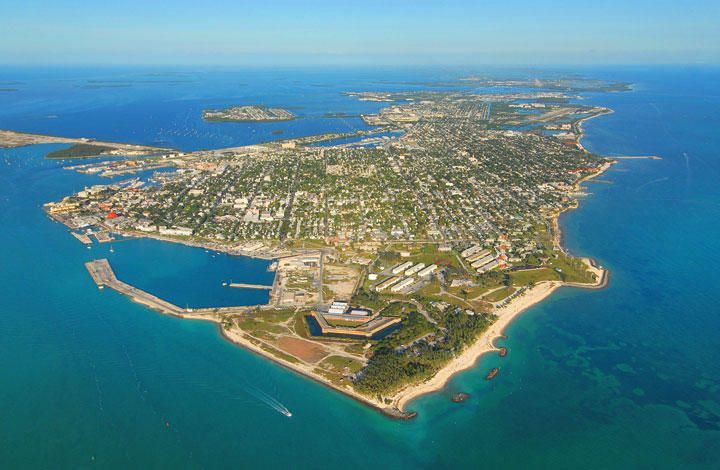 Area Information:
In the aerial pic above, you can see our city mooring field towards the top of the photo. There's a dingy dock available. The City of KW also has transient slips around that same area.
On the map attached, the mooring field would be towards the top -under the word "cat." The dingy docks and transient slips are in Garrison Bight. Your mast needs to be under 50 ft to clear.
Also on the map, along North Roosevelt Boulevard we have Winn Dixie at Overseas Market , Albertsons at Key Plaza and Publix at Sears Town. Walgreens, CVS, liquor stores are also in the same area.
On the map across North Roosevelt from Overseas Market and Winn Dixie, there is a very small waterway. It runs up to a condo hotel called Parrot Key. You can park your dingy and get to CVS, Home Depot and Winn Dixie very easily. HOWEVER - we do have a homeless population and while you personally are very safe - your belongings left unattended will not be safe. Parrot Key has a small water sports / jet ski rental booth and it is worth a $5 - $10 tip to one of their employees to watch your dingy.
The Historic Seaport / the Key West Bight has a good anchorage out front. *look on the map where Sebago docks. There's also a small dingy dock ( I think they charge $6 a day ). The Galleon Marina is in the Bight. They super nice and super expensive - similar to hotel rates. It's a fun area of the island; cars, restaurants, etc... Waterfront Market is semi-gourmet market right by the dingy docks.
If you don't mind being on Stock Island rather than right on Key West, Kings Point Marina is very nice. Not nearly as expensive as the Galleon. Good, clean facilities. We have a few live aboard friends there. You would be just as close to New Town; grocery stores, etc...
We haul out at Three D Boat Yard. They are also on Stock Island in a kinda funky area. Safe but funky. They have haul-out up to 75' length and 22' beam. Great DIY yard. A few good things about Stock Island include: Fish Buster Fish Market, Hog Fish Bar & Grill, Rusty Anchor Restaurant and Chico's Mexican Cantina, Bone Island Liquor, First State Bank and the All Animal Clinic.
Depending on where you dock / moor I can give you a laundromat in the area. I really like Suds and Duds on Fleming and Margaret / Old Town. They have a little restaurant, Help Yourself with outdoor tables, etc.... I also like Kennedy Laundry - very close to KMart and Albertsons / New Town. They have a great drop off service for like $5 a load - that's almost cheaper than doing it yourself.
You can also use the coin machines at Doubletree hotel where we do Friday lunch ( and where I work ). Have lunch, check your emails, hang out at the pool. There's two shuttle stops in Old Town you can hop on anytime. And if we aren't busy I can send a driver for you wherever you are : )
Feel free to email with anything you need help or suggestions with -
Marinas & Moorings:
Galleon Marina
info@galleonmarinakeywest.com
292-1292 / 800-662-7462
$4.25 per foot
City Marina
John
keywestcitymarina@keywestcity.com
305-809-3981
60 Foot power line clearance
$16.56 per day mooring incl dingy dock
Approx $2.00 per foot incl tax
Oceanside Marina / King Point
305-294-4676
Approx $3.50 per foot incl tax
Three D Boat Yard
305 294-0808
6801 Shrimp Rd
Approx $2.00 per foot transient
Approx $13 - $17 per day monthly
www.islandmarinavillage.com
Conch Harbor Marina
Approx $3.50 per foot transient
Approx $60 per foot monthly
Phone: (305) 294-2933
conchharbor@hotmail.com
www.keyscaribbean.com/conchharbor